—
Nepalis are cheering the arrest of the senior Nepali Congress leader and former home minister Mr Bal K Khaand and an arrest warrant on the UML's senior leader Top B Rayamajhi, former deputy prime minister, who is still at large on the charges of corruption on the 'fake Bhutanese refugee scam'. Several others have been arrested, including minister Rayamajhi's son, and some others are at large. People are eagerly waiting for any other potential high-profile arrests, and reportedly, the police is looking into several evidence on the matter. It turns out that in the process of international settlement of Bhutanese refugees, there was a systemic irregularity, involving higher echelons of the then government, in trying to send about 300 Nepali citizens as fake Bhutanese refugees.
–
–
–
In another bombshell, Nepal's former King Gyanendra is staying in Nepal's border town Nepalgunj and has met the chief minister of the state of UP, India, Mr Yogi, a Hindu hardliner, in the Indian city of Lucknow, about 3 hours drive from Nepalgunj. Former King Gyanedra has upped his ante against the political parties of Nepal, conducted several meetings in India lately, and even openly made strong statements against the parties. Many royalists hope that Nepal will reinstate  monarchy and fix the turmoil that the multiparty republic supposedly brought. In recent years, one can see the increasingly popularity of Mr Gyanendra Shah especially coming as a popular reaction to the bad governance and corrupt behavior of the politicians. Mr Yogi has been open supporter of religious monarchy in Nepal.
—
—
–
After long delay due to Prachanda's inability to manage his coalitions partners, the largest party of this parliament Nepali Congress is joining the government with major portfolios such as Foreign, Defense and Finance with other coalition partners.
27th March, 2023
—
–
–
Prachanda or the Puspa Kamal Dahal, received a vote of confidence in the House of Representatives with 172 votes this time. The CPN-UML and RPP, his former coalition partners,  cast their votes against him. The PM,  who had failed to produce a good-sized cabinet and was under stress, said that in 2 to 4 days there would be a full-shaped government.
–
–
–
Voting has started at separate polling stations for federal parliamentarians and provincial assembly members in the parliament building in Kathmandu.
–
–
–
Two advocates in Nepal have successfully filed petitions against the incumbent prime minister, former rebel leader, Prachanda at the Supreme Court. Thousands of people were killed and disappeared and Prachanda himself had taken responsibility for 5000 deaths.
–
–
—
After the largest party UML of Oli pulled the plug of its support to the Maoist PM Prachanda, and the royalist RPP followed suit, Prachanda lost the number to maintain his vote of confidence in the parliament after 64 days of its primeministership. Reportedly, the CPN-UML pulled back from the coalition as PM Prachanda blocked the Foreign Minister at the last minute from visiting the Geneva UN Human Rights Council. The FM comes from the UML party and the party saw Prachanda's move as a snub to the grand party. The PM and the FM had had a meeting about the visit in which Prachanda asked the FM to not leave the country as internal political uncertainties these days. Over the last few weeks Nepali top brass leaders have been busy in either competing or containing the candidates for the president. Now, in a quick move, all the UML ministers have resigned from their positions.
More news on this follow as it develops in KTM.
—
–
Amidst some speculations about Nepali Congress trying to stop Prachanda from overcoming the confidence vote Prachanda has got large support including the Congress to stay in his prime-ministership. Congress leader Deuba has cited the need defend the constitution for his seemingly paradoxical support to Prachanda who betrayed him. Prachanda got overwhelming 272-members confidence vote in the 275-strong parliament. Only 3 independent members opposed him. In the decision of the Congress to support Prachanda government, some major figures like Gagan Thapa and few others had expressed their disagreement in the party's parliamentary-members meeting. In doing this, Nepali Congress repeated the history as almost three decades ago the Congress party gave vote of confidence to the then UML PM Manmohan Adhikari. In his speech, Congress leader Deuba criticized UML leader Oli for dissolving the parliament that was unconstitutional. Oli later defended his decision. Nevertheless, Nepali politics is what it is, possibility of dissolution of this parliament cannot be ruled out, nor the failure of the Prachanda-led coalition. One of the factors that explain this dramatic evolution in the past weeks is certainly the rise of new forces – the old parties seem to be scared of their power base hence necessity of aligning for time being.
–
–
As Nepal inaugurates Pokhara airport – upgraded from domestic to international – amidst much enthusiasm in Nepal, Chinese envoy to Nepal calls it a project under China's Belt and Road initiative causing some confusion and even resentment in Nepal. Former foreign minister of Nepal Pradip Gyawali has now on record says that the Pokhara airport — although funded by China's EXIM bank – was not part of China's Belt and Road initiative projects. The project studies and negotiations about loan terms were all finalized even before China's launching of BRI.
–
–
–
In a dramatic turn of event, Maoist Prachanda breaks his alliance with Nepali Congress's Deuba and sides with his rival UML Oli to become the next PM of Nepal. The whole nation has been shocked by the way these leaders have behaved – Deuba was not ready to leave power and Prachanda could not wait for it, as a result, despite the Congress election win, he gets the executive head.
–
 –
–
–
Nepal has just held a national parliamentary election at central/federal and provincial level. Out of total seats of 275 at the central parliament in Kathmandu, 165 representatives are chosen through first-past-the-post system (candidates who win direct votes ) and 110 remaining seats from proportional voting (percentage of total votes what a party gets). According to the latest result, the ruling party Nepal Congress has come out the largest by securing 54 seats in direct voting and the main rival party UML has secured 44 seats. On the proportional part, the UML is leading with slight margin ( estimated seats so far UML, 34 and Congress 32).
–
On the provincial seats, Congress is leading as well with 105 seats and UML coming after with 90 seats.
–
–
As the big names and parties fared less than expected and some one new young and independent party – Rastriya Swatantra Party ( National Independence Pary) — has done unexpectedly well, the upcoming parliament is expected to be more fragmented than last one and more instability in the nation.
–
–
–
On the latest counting, Nepal's ruling party Nepali Congress is ahead, closely followed by the main opposition party of CPN-UML. Newly formed parties are faring better than expected revealing people's frustration towards grand old parties and leaders but not sufficient to cause a significant change.
–
–
–
It is estimated that Nepali Congress (NC led by PM Deuba),  Nepal Communist Party- United Marxist Leninist (UML led by Oli), and the Maoist Center (leader Prachanda)will get the first, second, and third largest number of votes.
–
–
Follow the Election Commision of Nepal for updated and latest info on federal and provincial elections.
–
–
–
Tourists and trekkers' increasing arrival in the region has revived hope among tourism entrepreneurs in the post-Covid season.
–
–
–
"It is an honor to serve as U.S. Ambassador to Nepal. I look forward to working with the leaders and people of Nepal to ensure that the successes of the next 75 years of the U.S.-Nepal partnership surpass the last" says the Ambassador.
–
–
–
Acting Assistant Secretary for Global Public Affairs Elizabeth Kennedy Trudeau will travel to Nepal, the United Arab Emirates, Uzbekistan, and the Kyrgyz Republic from September 28-October 9, 2022.
–
–
China's communist party leader Li Zhansu – a politburo member – arrives in Nepal with over 100 delegation. Zhansu is received by his Nepali counterpart Agni Sapkota – himself a Nepali Maoist leader. Zhansu, believed to be close to Chinese Prez Xi Jinping is the chairman of the standing committee of the Natioanal People's Congress of China – a member of the seven politburo standing committee that is said to run China.
In his visit, Zhansu is mainly engaging with Nepal's parliament!
-September 12, 2022
–
–
–
Newly appointed head of the international department of China's CCP Liu Jianchao has arrived in Nepal for a 3-day visit in which he has been calling upon several senior leaders of Nepal across the political spectrum. Chinese leader has appreciated Nepal's support for 'One China policy', a ritual in Sino-Nepal ties, but the timing is of significance as Nepal has ratified US MCC grant and then refused to sign up to a security partnership deal. On the question that whether China is seeking to unite communist forces of Nepal, Jianchao reiterated that Nepal would have to follow its own model as China did with Marxism of Chinese characteristics.
–
–
–
Amid another row over US-Nepal bilateral initiative after the famous MCC debacle – the State Partnership Program (SPP) – the Nepal government has decided not to go ahead with the one.
–
Another addition to the series of visits by top American officials to Nepal over the recent weeks, the US Army's Pacific Commanding General Charles Flynn has arrived in Nepal – June 08, 2022 – to meet mainly the Nepal Army Chief Prabhu Ram Sharma.
General Charles, in New Delhi before departing for Nepal, expressed his concerns about Chinese Western Theater Command's military infrastructure build-up and said that countries in the region would have to be concerned about China's activities.
–
(source: Nepali Army)
–
Nepal's PM Sher B Deuba is going to be the first executive head of the Himalayan nation to have official visit to Washington DC in 20 years. As Nepal has ratified US MCC grant after some years of disagreements in Nepal, US-Nepal are set to take the 7-decade-old bilateral relationship to the next level. Back to back visits of high US officials to Kathmandu have taken place – the latest being one by the US head of Tibet policy. Nepal was also in the list of invitees in Biden's democracy summit some months ago.  Nepal, situated between India and China, is finding it quite challenging to balance its ties with its neighbors as US-China great power competition has intensified over the last few months.
—
–
When PM Sher Bahadaur Deuba of Nepali Congress came to power, Nepal-India ties were already in their yet another historical low especially due to the row over India's road construction through Kalapani region which Nepal has always claimed and maintained as its own territory. But that status-quo on Kalapani has significantly changed because of India's latest move of officially inaugurating a road there.  that India has occupied Kalapani and Nepal is cognizant of that, simmered time to time but remained so.
–
–
Nepal and China have inked nine sets of instruments to enhance mutual cooperation and partnership.
–
–
On a historic session, Nepal's parliament led by the government of Nepali congress and its coalition has ratified the US MCC Nepal bill that was lingering for 3 years without being tabled at the national parliament. The debate in favor and against the MCC grant has shaken the whole nation over the last few months with multiple conspiracy theories, misinformation and disinformation flourishing, great powers US and China engaging in war of words, from elderly to little kids discussing the American grant money, its motivation and implications.
—
–
In its statement released today, Nepal's Foreign Ministry said : "Nepal opposes any use of force against a sovereign country in any circumstance and believes in peaceful resolution of disputes through diplomacy and dialogue."
–
–
US Assistant Secretary for Central and South Asian affairs Donald Lu has asked Nepali top leaders to ratify the already agreed US MCC grant of $500 million immediately. He has, reportedly, warned the leaders that not doing so would be tantamount to Chinese intervention in the matter and that Nepal will face consequences as US will review its 7 decade old relationship with the Himalayan nation.
His approach has sent shockwave in the country  which has got into another bombshell event of sudden impeachment motion against Chief Justice.
Ruling coalition leaders – Nepali Congress, Maoist and Madhesi party – and opposition UML and others have not been able to converge and make a decision. Earlier, the Spokesperson of the parliament the Maoist Mr. Sapkota refused to table the MCC agreement to ratification process going beyond his rights. Incidentally, Mr Sapkota is the one who has murder charges against him during the Maoist insurgency era, and despite supreme court's decision to indict him, in the pretext of a 'political war' and that he should be exempt by the truth commission, he has been enjoying impunity.
–
–
Feb 13: An impeachment motion has been filed against Chief Justice Cholendra SJB Rana at the federal parliament secretariat.
–
–
–
–
Cases 6827
Recoveries 5432
Deaths 10
.
"The Chinese Embassy in Nepal has clarified repeatedly that China and Nepal have resolved the boundary issue through friendly consultations as early as the 1960s, and there is no dispute at all. The Ministry of Foreign Affairs of Nepal has issued a statement to clarify it and the Nepali government has also dispatched a team to conduct on-spot investigations. The foreign authorities of the two countries maintain good communication on border-related affairs. it is hoped the Nepali people not be misled by individual false reports."
–
–
Nepal's Grand Old Party, the largest liberal democratic Nepali Congress who has just become the ruling party as Nepal's communist suffered factionalism and lost their government, is holding its General Convention.
Interesting read on Nepali Congress president and current prime minister of Nepal Deuba's long hold on power in the party:
–
–
President Biden is holding a Democracy Summit in 9-10 December, 2021 for which the list of invitees has been out. Nepal, which was not invited in the last Climate Change Summit led by President Biden, has not made it to the list along with South Asian counterparts India, Pakistan and Maldives.
–
–
Like in the 2019 ceremony of taking oath for Modi's second term, India's PM Modi is again inviting Nepal's PM Deuba including leaders from BIMSTEC nations as chief guests to India's Republic Day on January 26th next year. From Nepal, then PM Oli attended Modi's taking oath of office at the Rastrapati Bhawan in New Delhi. BIMSTEC stands for Bay of Bengal Initiative for Multi-sectoral Technical and Economic Cooperation. BIMSTEC nations are: Nepal, India, Bangladesh, Sri Lanka, Bhutan, Myanmar and Thailand, and the platform is also seen as a South Asian regional organization with India's leadership without Pakistan. In fact, the first major regional organization is SAARC which includes Pakistan but due to Indo-Pak arch-rivalry the regional body has struggled to function.
–
CPN UML chairman KP Oli has called upon party members to wisely choose their over 1900 UML representatives nationwide in the 10th General Convention. He emphasized the UML's traditional policy guidelines of People's Multiparty Democracy, which has been under attack by some members, to counter "right-wing opportunism" and "organizational anarchism." He has taken the opportunity to criticize those who went against his leadership and government. Senior leader Madhav Nepal who split the party, which Oli defines as "organizational anarchy." He also indicated that Maoist Prachanda intended to destroy UML.
Link here:
–
–
Communist Party of Nepal – United Marxist and Leninist (UML) led by the recently ousted PM Oli held its first 3 day 'Statute Convention' in Kathmandu, which ended with
Oli with serious health conditions for a long time sarcastically attacked his detractors such as Prachanda and Madhav Nepal by saying that 'they are worried that I am still living, what can I do.' He concluded the Convention by claiming majority for the UML party in his leadership in the next elections to be held in a year or so. Oli also refuted the claim that he led a personalistic leadership by saying that 'we don't believe in personality cult.'
The UML will be holding its 10th 'National Convention' soon.
The Statute Convention had produced 16-point proposal. Chairman Oli's political document, General Secretary Pokhrel's organization document and Depute General Secretary Poudel's Statute amendment proposal, all three proposals have been endorsed by UML delegates, about 6000 who came from different parts of Nepal to Kathmandu.
Photo Courtesy: Onlinekhabar.com
—
–
-Finally due to ego clash between KP Oli and Madhav Nepal, both former prime ministers of Nepal and top brass of Communist party of Nepal- United Marxist Leninist, the biggest Marxist party of the country, has split as Mr Nepal has registered his new party CPN UML (Socialist).
– The recently appointment Nepali Congress Prime Minister Sher Bdr Deuba ended a parliamentary session and got the President to sign an ordinance to make way for Madhav Nepal to separate from Oli in the CPN UML, for which Mr Deuba has been criticized within in his own Nepali Congress for taking such an undemocratic move.
– Deuba has been unable to expand his cabinet from more than just 4 members, and expects his communist ally Madhav Nepal to quickly get out of Oli's leadership and join his coalition.
– The new ordinance would allow parties to split if just 20 % of the Central Committee of the party supports it, specifically enabling Madhav Nepal's wish to split, which some presume as PM Deuba's political strategy to weaken his largest political opponent party UML.
– The ordinance has also allowed, paradoxically, Oli's ally Mahant Thakur from Madhes-based JSP party to split.
–
–
Thousand of Nepalis are waiting to come home as Talibans take over Afghanistan, and the repatriation has begun:
–
–
–
–
The newly-appointed Prime Minister Sher Bahadur Deuba has taken oath of office and secrecy amidst a special function held at the Office of President in Kathmandu.
–
–
Nepal's SC has given its verdict that PM Oli and President Bhandari's move to dissolve parliament unconstitutional, and even asked to form a government under Nepali Congress leader Sher Bdr Deuba.
The ruling UML says they do not agree with the decision but accept it. While opponents of Oli hailed the verdict , UML cadres are protesting the decision publicly.
–
–
–
—
06/25/2021
–
As Nepal's political crisis continues still with PM Oli leading the nation, in new twists, the opposition Nepali Congress leader Deuba and also PM Oli's internal rival Madhav Nepal are being floated as potential new PM.
The Maoist supremo Prachanda has recently claimed that Nepali Congress's Sher Bdr Deuba will be the next PM, while other communist leaders are saying that if Oli resigns, Madhav Nepal will be the next one. Mr Nepal has been the most staunch internal rival of Oli in the UML party going to the extent of breaking the unity of the party. On the whole, Oli continues to reign, despite huge political, judicial and legislative debacle about his and the President's move to dissolve the parliament. Many opposition leaders and internal rivals in the UML claim that the President Ms Bhandari has become a party cadre or subordinate to PM Oli rather than upholding the norms of symbolic head of state position. However, legal experts in the country dispute the consitutionality of the move from the President, both positively and negatively.
In the meantime, as Oli's desire, countries seem to come to terms with the fact that there will be elections held in few months and have started participating in the election campaign process.
—
—
—
Nepal's Ministry of Health reports 30 new deaths including figures from the past few days based on statistics from the Nepal Army – The Kathmandu Post
—
PM Oli has failed to get sufficient support in the parliament in the confidence motion vote.
Political parties now are juggling the possibilities of forming the next coalition government.
As Nepal prepares for potential surge of a deadly second wave of Covid-19 as the crisis is deepening in India,
Nepal's major partner United States has through USAID provided $8.5 million additional aid to Nepal. Similarly, China has provided 20 thousand oxygen cylinders.
More:
–
–
Consult these governmental pages and be informed through other media and contacts:
–
Due to grave crisis in neighboring India and surging cases of Covid-19 in Nepal as well, the government is taking strict measures in which stopping domestic and some international flights will be put in place soon.
–
As Covid-19 cases and fatalities surge, Nepal is putting lockdown measures in place again, especially considering the dire Covid-19 crisis in India with whom Nepal has open borders. 22 border points are going to be closed, and even flights closure is being considered.
–
–
–
–
President Biden of the USA has invited 40 leaders around the world, in his first list at least, which includes the three South Asian nations like Bhutan, Bangladesh and India, but Nepal does not appear in the list – a Himalayan nation that houses significant part of the Himalayas.
–
During the visit of Nepal's president to Bangladesh on the occasion of Bangladesh's independence golden jubilee celebrations, the two South Asian neighbors have signed MOUs on railway links to tourism.
Nepal's supreme court makes the unification of the ruling Nepal Communist Party (NCP) null and void leading the polity into further uncertainty.
Biplap has been the most consistently violent hardcore Maoist faction in the post-Maoist insurgency Nepal — however, with some dramatic turns in the ruling Nepal communist party, especially the struggle for power between PM Oli and the Maoist Supremo Prachanda, Biplap and Oli have signed an agreement to join hands.
PM Oli has laid foundation stone for China-Nepal friendship industrial park in eastern Nepal, about $ US 600 million China-invested industrial park is expected to have more than 491 different industries and the products will include from white goods to apparel to mobile, electric cars. The park is located in a strategic location near Bay of Bengal.
Nepal's Supreme Court has reinstated the House of Representatives, the lower house of the bicameral parliament. The Chief Justice Rana and four other justices have reportedly unanimously taken such decision and ordered to resume the parliament immediately. The verdict is a massive blow to PM Oli and a great victory for his opponents Prachanda and Madhav. In any case, this ensures the supremacy of the constitution of Nepal.
–
Nepal's communist leaders Prachanda and Madhav Nepal who both are fighting against PM Oli in another episode of their internal feud have called on nation-wide strikes.
–
–
As Nepal's ruling communist party is at the verge of formal split, China's high level delegation has raised the eyebrow of many national and international stakeholders. Guo Yezhou, Chinese communist party's international department's vice minister in a four-member delegation have arrived in Kathmandu on a four-day-visit. Will the Nepalese communist stay together after Chinese lobbying or not, is being watched carefully in Nepal, and in India and elsewhere. He has already met PM Oli, Prachanda and President, and is shortly meeting Madhav Nepal, among others.
–
–
The decision came in the wake of deepening crisis within the ruling Nepal Communist Party.
–
The height of Mt Everest has grown by 86cm to now measure 8848.86m, the foreign ministers of Nepal and China revealed at a joint virtual live event on Tuesday.
–
–
The Oli government has released its updated foreign policy document that brings together the elements of different policy documents and statements including the constitution of Nepal. The government's foreign and security policy formulation is based on the premises that the global balance of power is shifting, and the world is moving towards a sort of multipolar order, and according to the foreign minister Gyawali, Nepal has felt significant pressure emanating from these changes. Therefore,
Through this new packaging of Nepal's traditional foreign policy pillars, the government re-emphasized continuity of non-alignment policy, principles of the UN charter and Panchaseel and the supremacy of international law and peaceful resolution of conflicts. Nepal's foreign policy's core priority remains economic diplomacy. And as a strategy to pursue its FP and security objectives,  the government has prioritized the use of track two diplomacy as the civil society in Nepal is increasingly interested in the matters of external policies of Nepal and want their voices heard. Nepali diaspora's importance on Nepal's economic development has also been mentioned.
–
–
As India's Foreign Secretary Shringla departs, arrives China's Wei Fenghe, the defense minister. His visits comes in the context of series of visits from India — RAW chief, then COAS  and then Foreign Secretary in an effort to improve relations that hit low after India's defense minister Raj Nath Singh inaugurated a road section to Tibet through territories that Nepal sees at its own. And as the requests for talks to India did not succeed, in retaliation Oli government of Nepal issued a new map including the territories in question, or even further as one would think. India's former ambassador to Nepal Ranjit Ray already expressed his dissatisfaction about Nepal inviting Wei Fenghe as Nepa not being sensitive about India's concerns as both India and China are the verge of war along their mountainous borders. In the meantime, Nepal government has made clear that Nepal remains neutral and non-aligned.
Minister Fenghe will be in Nepal for few hours only, in which , reportedly, he will be meeting Nepal Army Chief Purna Chandra Thapa, and then Prime Minister K P Oli and the President Ms Bhandari. Since it's a "working visit" there are speculations about other meetings as well.
–
Indian Foreign Secretary  Shringla visiting Nepal 26 November 2020:
–
–
Chinese Defense Minister to visit Nepal:
Chinese Defense Minister Wei Fenghe's visit to Nepal withing 10 days has almost confirmed, according to Nepal Khabar. Nepal is expecting visit of Indian Foreign Secretary Harsh Shringla as well in a week time.
–
New visits ice breaker for India-Nepal relations:
After India inaugurated a road link to Tibet Mansarovar, China, through the territories claimed by Nepal, the relations between two Special neighbors hit rock bottom – India's action prompted Nepal to issue a new map that included territories seemingly further into Indian territory. After a long hiatus, Indian intelligence chief came to Nepal, and then Indian army chief Navarane. Although the RAW chief's visit was criticized in Nepal for seemingly insulting Nepal as the matter of protocol,  the army chief's visit and the upcoming visit of Foreign Secretary Shringla is expected to be an ice-breaker in the cold relations. In between, there was a regular bureaucratic meeting on existing mechanisms of cooperation. As the geopolitical scenario is becoming increasingly sensitive, especially for India, both sides are facing big challenge to manage the relations and restore good terms. Meanwhile, China looms large as the elephant in the room.
–
Nepal Communist Party Crisis:
–
As co-chair of Nepal Communist Party Prachanda  demands resignation of the other co-chair and the prime minister K P Oli, the crisis is deepening yet again the ruling communist party. Oli is juggling his options to manage Prachanda and his prime ministerial seat.
–
US elections for Nepali immigrants:
–
Nepalis in America have been hopeful and optimistic that their desire to stay, work or settle down in the US will be possible again, as Biden admin is expected to ease procedure on H1B or other visas.
–
Nepal Covid-19 Update, November 08, 2020:
–
Cases: 194,453
Recovered: 157,926
Deaths: 1108
–
Nepal open for tourists from October:
–
Nepal Covid-19 cases surpassed 50k:
In alarming spread of Covid-19 in the Himalayan nation, cases have surpassed 50,000 mark.
Recent figures:
Cases: 58, 328
Recovered: 41, 706
Deaths: 379
–
(Source: Kantipur daily, September 16, 2020)
–
After the months-long uncertainty in Nepal-India bilateral ties, high-level negotiations are going to be held on August 17 as both sides prepare to sit for the regular Oversight Mechanism meeting. Given the state of affairs, the two sides are likely to pave the way for positive dialogues on the Lipulekh-Limpidadhura border row between India and Nepal.
–
–
The infighting in the Nepali ruling communist party goes on. Although just last week it seemed that things were settling down, new drama emerges. Prachanda and his aides' effort to bring PM Oli down, and Oli and his aides sticking to Oli's leadership have lead the Communist party to quasi-two party situation. As Oli kept on cancelling central committee meeting, Prachanda and Madhav Nepal went ahead with the one in showing their dissent to Oli. However, Oli's group has named such meeting as informal gathering. In the meantime, Oli remains determined to cling to the post, which he won with strong majority, and Prachanda, Madhav, Jhalanath, all these veteran leaders continue to mobilize to undermine Oli.
–
–
.
Total infected – 18613
Total deaths – 45
increase from the last day – 130
Total recovered – 13128
(Source- BBC Nepali)
.
Nepal's Oli government has banned some Indian television media that had launched a systematic campaign of character assassination of PM Oli. Nepal Ambassador to India had reached out to India's MEA regarding the matter. Such policies of Oli has spoken to Nepalese who were unhappy about such broadcasts by Indian media, and turns out even such media houses have brought their tone down. But it seems Oli is still not satisfied and made another highly controversial statement. Oli said lord Ram is not Indian but Nepali and Ayodhya is in Nepal, not India.
.
Nepal's parliament has unanimously passed a bill to amend constitution in order to replace old map with the new one in the coat of arms of the nation. The Oli government issued a new political map that included areas that it claims that India has encroached — Limpiadhura, Lipulekh and Kalapani in the tri-junction area among Nepal, India and China. The parliamentarians will now further discuss the matter to make the said changes in the coat of arms. The new development will be seriously taken into note by its big neighbor India.
On the icons below, on the left is the existing coat of arms, and on the right will be new one — pay attention to the left side of the map, the northwest of Nepal where there is a pointed sketch that goes into the areas claimed by India –Limpiadhura, Kalapani and Lipulekh Pass.
–
Total cases — 2912
Total Recovered — 333
Deaths — 11
New Projection — up to 25000 cases
Increase from daily earlier — 278
………………………………………
Nepal Covid Update June 03, 2020:
……………………
Total cases – 2300
Total Recovered — 278
Deaths – 9
…………………………………..
Nepal Covid Update May 31, 2020:
……………………………………..
Total cases — 1567
Recovered — 220
Deaths — 8
increase from the day earlier –166
New projection for Nepal — Up to 5000 cases
Districts — in 57 districts
PCR tests — 69, 582
(Source- BBC Nepali)
……………………………………………………
Nepal government led by PM Oli has endorsed a new political map for Nepal for the first time that shows the strategic bordering area of Kalapani, Lipu Lekh and Limpiadhura, through which India has recently inaugurated its new road to China/Tibet border as a new route to the famous pilgrimage Mansarovar in Tibet.
—-
May 17th:
Cases – 375 (increase from the day earlier — 80)
Deaths – 2
Recovered – 36
……………….
Nepal's Covid-19 cases have slowly growing and reached 243 on May 13 despite the expectations that the situation was well under control. Nepal government policies to fight COVID-19 seems to rely more on hopes than reality especially in terms of its economic plans. The government is easing some restrictions while the capital Kathmandu has turned into a "red zone" due to rise in cases in the last few days.
Total cases — 243;       Recovered — 35;           Deaths — 0
………………………………………………………
More links on the story:
Indian Defense Minister Raj Nath Singh's Tweet on the inauguration of the road through Lipu Lekh to China border by India on May 08, 2020:
New road for Kailash Mansarovar pilgrims is ready, will cut travel time by three days, The Print:
………………..
Infected — 99
Recovered – 22
Deats — 0
———————————
Meanwhile, Nepal government has extended the lockdown until May 18.
…………………………………………………………………..
The ruling communist party NCP's task force that comprises three senior leaders that includes the current foreign minister Pradeep Gyawali issued its recommendation of amending several clauses in the agreement. The report has emphasized suspicion regarding several points of the agreement such as the presumed US security agenda behind MCC grant, or the requirement of India's consensus on crossborder transmission line etc. However, one member of the task force, the incumbent foreign minister Gyawali has expressed his dissent arguing that the core of the task force report is exaggerated and might jeopardize Nepal's conduct of independent foreign policy. He also says that it is unfortunate how the MCC agreement has become an issue of internal feud in the communist party divided in the line of nationalist or anti-nationalist.
……………………………
Nepal COVID Update:
By 24 April 2020:
Positives – 49
Recovered – 10
Death – 0
Nepalese authorities have tested 3524 persons for Covid-19 by April 10, 2020. As of April 10, Nepal has had 9 confirmed cases, 1 recovered and 0 deaths. The country is under strict lockdown amid fear whether Nepal will be able handle the potential surge in the cases. Meanwhile, Nepal has been working closely with neighbors India and China, as well as the US and other international organizations such as the WHO and the World Bank. The USAID has given several millions to Nepal for its response and preparation to the virus, and the World Bank has also signed its fast-track concessional loan to Nepal of several millions for Nepal's fight against Corona.
Around 180 Nepalese students are in Hubei province China eager to come home, and now the Nepal government has planned to quarantine potential returnees at a government facility in Bhaktapur, near Kathmandu.
US Congress's Tom Lantos Human Rights Commission's co-chairs have
Bangladesh President Abdul Hamid had a four-day goodwill visit to Nepal which is expected to herald a new chapter in Nepal-Bangladesh relations.
Chinese President Xi Jinping had a two day visit to Nepal amidst much excitement in Nepal and international skepticism. 23 years since President Jiang Zemin's visit, Xi is the first Chinese President to pay the visit to the Himalayan nation. Especially in the context of India-Nepal relations hitting historical low after the 2015 blockade imposed by India, and gradually improving, China's highest level visit to Nepal has given much hope in terms of its economic development and diplomatic clout in South Asia and beyond. During the visit, China and Nepal have signed 20 MOUs that include opening of Confucius Institute, infrastructure projects, capacity building etc.
Nepal's private carrier Himalayan Airlines is set to operate regular flights to the newly inaugurated Daxing International Airport, Beijing.  China and Nepal did another revision of Bilateral Air Services Agreement in July 2019 which is going to increase the number of flights from 70 flights per week to 98 per weeks reciprocally. Since the revised agreement of 2014, Nepalese carriers had the permission to fly to cities such as Kunming, Shanghai, Guangzhou, Chengdu, however, no Nepalese carrier was actually given permission to fly to China. Until now, only Chinese carriers have been operating between different cities of China to Kathmandu that include Air China, China Southern, China Eastern, Sichuan Airlines and Tibet Airlines. Now apart from Beijing, the Himalayan airlines has plans to add other destinations such as Lhasa, Nanchang, Guiyang, Changsa and several other in addition to the existing destinations covered by Chinese carriers. So far, Air China has been operating between Lhasa and Kathmandu — Kathmandu is the only international destination having direct flight access to Lhasa, Tibet.
Increasing flight connectivity between Nepal and China is expected contribute to Visit Nepal 2020 as Nepal has the target of bringing 500,000 Chinese tourists to Nepal. The year 2018 saw a strong increase of 46.8 percent in Chinese tourists arrival in Nepal reaching the figure of 153,602. Himalayan airlines will be a joint venture between China's Tibet Civil Aviation Development and Investment (49 percent stake) and Nepal's Yeti World Investment (51 percent stake). The first ever flight by a Nepali carrier between Kathmandu-Beijing is expected to fly at the end of October, the same month Chinese President Xi Jingping is expected to visit Nepal for the first time. Meanwhile, Chinese communist party members have been in Kathmandu to give lessons on Xi's thoughts to the ruling Nepal Communist Party's rank and files.
Current SAARC Chair Nepal succeeded to hold a meeting in the sidelines of the UNGA summit this week. However, Pakistan's PM Qureshi boycotted the opening of statement of Indian EAM Jaishankar at the council of SAARC ministers in New York.
Xi's idea arrives in Kathmandu before his visit
Leaders from the ruling communist party of Nepal and communist party members of China are conducting some ideological interaction in a new practice to promote socialism of Chinese characteristics, mainly Xi's path.
Chinese State Councilor Wang Yi arrives in Kathmandu
Chinese State Councilor and Foreign Minister Wang Yi arrives flew in to Kathmandu on Sunday evening from Islamabad, Pakistan. In his two days visit, Wang Yi will be holding high level meetings apparently to prepare ground for potential visit of Chinese President Xi Jinping in October when he will leave India after meeting PM Modi. Xi's possible visit to Nepal has been closely watched by China observers in South Asia and in other major capitals in the context of China's aggressive internationalism under the Belt and Road initiative. Nepal has already sign up the flagship project of China.
India's citizenship rules excludes ethnic Nepalis
In the state of Assam in India, New Delhi's National Register of Citizens (NRS) that checks the citizenship of the people of the north eastern state, around two million people are expected be stateless that includes one hundred thousand Nepali-speaking people.
Nepal expects Xi Jinping visit this October
Chinese President Xi Jinping and Indian Prime Minister Narendra Modi are set to meet in Mamallapuram, Tamilnadu in the coast of Bay of Bengal this October. As a continuation of their previous informal dialogue in Wuhan China, the two leaders are going to meet in South India. Meanwhile, China's foreign minister Wang Yi is also visiting Nepal this September, which is speculated as a preparation visit for potential visit of Xi Jinping, according to Himal Khabar.
More on vernacular Himal Khabar
Nepal-China joint military exercise begins in Kathmandu
22 PLA soldiers are in Kathmandu for the second Nepal-China joint military exercise named as the "Sagarmatha Joint Military Training." The exercise will be two weeks long, and will focus on counterterrorism and disaster management. A group of Chinese observers of the training will also be arriving soon in Kathmandu, Nepal.
More on the vernacular Nagarik
Nepal's official position on Kashmir
Nepal's foreign minister Pradeep Gyawali said that Nepal is "closely watching" the aftermath of India's decision to change the State of Jammu and Kashmir into Union Territory. According to the minister, Nepal's concern is on two areas: the safety of Nepalese residing in Kashmir and the effect of India's recent moves on regional peace and stability. He hopes that the issues will be resolved through dialogue. In the meantime, the minister emphasizes the role of SAARC since Nepal chairs the practically moribund regional body in South Asia and reveals that in the coming UN General Assembly, the foreign ministers of SAARC countries will be meeting in the sidelines.
Indian MEA Jaishankar coming to Kathmandu
India's Minister of External Affairs — former foreign secretary — S Jaishankar is visiting Nepal for a Nepal-India joint commission meeting in Kathmandu on 21st August, 2019.
Climate scientists meet in Kathmandu
As Nepal reels from flood and landslides, scientists from several countries gather in Kathmandu, which could not come in a better time. Nepal PM Oli emphasizes Nepal already being affected by climate change.
India concerned over Nepal's vegetable imports requirements 
Nepal has introduced new policy that requires vegetable imports to be tested for chemical residues. As a result, dozens of truckload of Indian products — India is the largest import destination of Nepal — have been destroyed in just one week.  The situation is quite unusual since it is the Nepalese exporters who continuously suffer from India's quarantine requirements.
Nepalese women workers stranded in mainland China
In a rare case of migrant workers employed in China, several Nepalese women who went to work for a garment factory through a Nepalese manpower company hope to leave as they do not have the required job skills, according to a news on BBC Nepali Service . The job benefits they received were much less than promised by the company in Nepal.  According to a Nepali journalist currently based in Beijing, the Nepali workers have not fulfilled all the criteria in order to work in China, a country where low-end manufacturing jobs are rarely allowed to foreign workers. He says, in order to get a work visa for China, the minimum qualification is university graduate. It turns out that even though stricter rules are in place, and the garment factory was visited by officials at the Nepalese Embassy in Beijing as per Nepal's regulations, some confusion had remained, and in the meantime the company got the permit to send the workers to China from the Ministry of labor in Kathmandu, Nepal. Since the factory is situated near DPRK border, few North Koreans are also working in that factory. Incidentally, there are several hundreds Nepali workers working in the border region in Tibet Autonomous region where they are not required visas, especially the Nepalese who are the locals of border areas.
Nepal-China cross border railway negotiations in Beijing
The 4th meeting of Nepal China trans-Himalayan railway Detailed Project Report (DPR) has taken place between the government representatives of the two countries in Beijing this week. The meeting also discussed the technical aspects regarding domestic railway lines in Nepal connecting the capital city Kathmandu with the tourist hub Pokhara and  Buddha's birthplace Lumbini. However, since the financing aspect was not in this meeting agenda, the participants did not touch upon the financing matters. According to the Deputy of the Nepalese mission in Beijing Mr. Sushil Kumar Lamsal, regarding the cross-border railway construction, several other phases of studies and discussions have been deemed necessary. Chinese companies CEC and SFTI have begun their preliminary studies presented their findings on Kathmandu-Pokhara and Kathmandu-Lumbini railway respectively. Next meeting on the railway will take place in Kathmandu. (Source: BBC Nepali Service)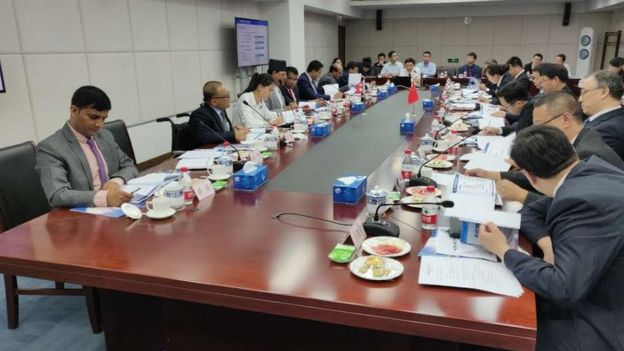 Nepal PM on BRI- Good experience with China
In his interview to the BBC world, the visiting Nepali PM KP Oli responded to the China's BRI question by saying that we do not focus on other cases and experiences, but in Nepal's case "our experience has been good" with working with China's BRI. He said that Nepal will not accept loans randomly and that carefully calculate and select projects. He reiterated that Nepal has come out of decades long instability and that the country is focused on economic development. In terms of environmental implications of large BRI infrastructure projects, millions more of trees will be replanted to compensate deforestations.
PM Oli request for treaty revision to British PM May 
The visiting Nepalese PM KP Oli has proposed PM May to revise the historical Nepal-India-Britain treaty in their meeting at the 10th Downing Street in London. He also brought up the issues regarding Nepalese Gurkhas and the need for the British government to look into the matters.
US seeks to deepen defense ties with Nepal
In the newly released Indo-Pacific strategy report by the US Defense Department, it explicitly mentions small South Asian nations as priority region and partner, and that it seeks to expand defense relationship with Nepal.
The report in this link: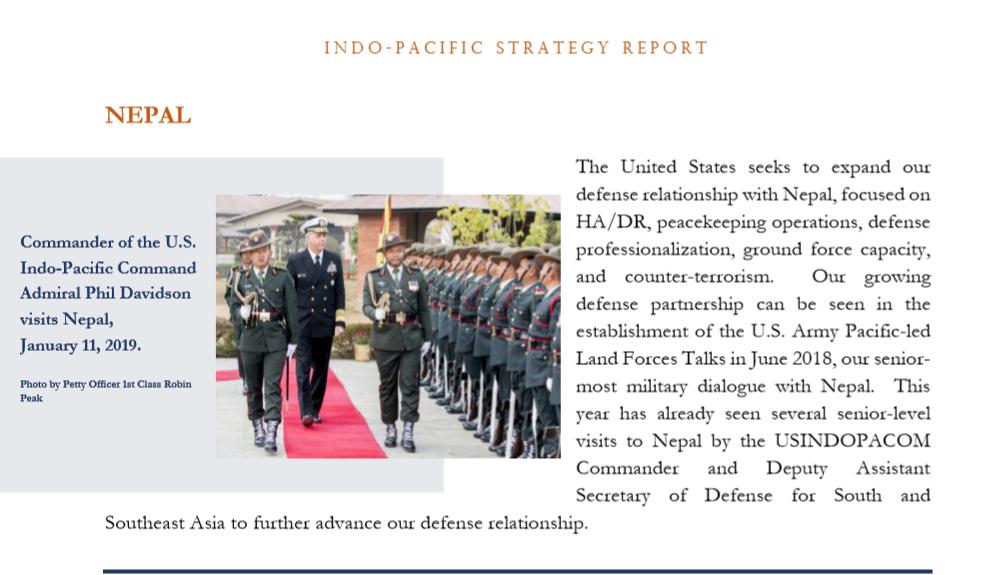 India's new foreign minister Jaishankar makes Nepal anxious
Modi 2.0 has chosen former foreign secretary S Jaishankar as foreign minister, however, India's nearest neighbor Nepal is increasingly anxious in terms of seemingly challenging days ahead for the Himalayan nation. The anxiety is mainly associated with Jaishankar visit to Nepal a couple of days before the nation was issuing its new constitution. As Nepalese leaders would not agree with Jaishankar's suggestion to delay the launch of the constitution due to Madhesi complaints in the southern border, India imposed a blockade on Nepal immediately after the Indian special envoy went back to Delhi. The blockade devastated Nepal further who had been just hit by massive earthquake and the entire nation was upside down and thousands had died. Due to the acute shortage of supply, then Oli government signed trade and transit agreement with China, a historic deal. Consequently, Modi and Susma Swaraj did the course correction.
Modi invites BIMSTEC leaders in his swearing-in
India's PM re-elect Narendra Modi has invited BIMSTEC nations' leaders to New Delhi to attend his swearing-in ceremony as the new PM of India. In his first tenure, he invited SAARC leaders, but this time sending a clear signal that he is boycotting Pakistan, he chose the BIMSTEC forum that excludes Pakistan. It also signals that Modi will be prioritizing his neighborhood and Act East policy. Although the question remains that to what extent such photo-ops initiatives will matter to achieve India's foreign policy objectives given the realities that BIMSTEC has not really taken off the ground except for talks and visits, nevertheless, BIMSTEC leaders and citizens will take it as a positive gesture of Indian government in terms of according due respect and help prepare ground for potential cooperation and opportunities.
PM Oli to visit France, UK and Switzerland in June
After his visit to Vietnam and Cambodia, Nepal's PM Oli is soon to embark on a week-long visit to Europe.
US official in Kathmandu: MCC grant for Nepal under Indo-Pacific Strategy
Visiting Acting DAS of State David Ranz said in Kathmandu last week that the Millennium Challenge Corporation (MCC) grant for Nepal of US $ 500 million is implemented under the Indo-Pacific strategy and emphasized private sector investment for infrastructure and growth.
PM Oli to visit Vietnam and Cambodia
Foreign policy experts in Kathmandu have questioned Oli's visit to non-democratic Asian nations Vietnam and Cambodia.
Nepal rail part of China's BRI corridors
Nepal-China cross border railway project proposal becomes part of BRI economic corridors in the 2019 BRI forum in Beijing.
Nepal Foreign Minister: BRI debt trap a biased argument
The Minister argues that the "debt trap" argument is motivated by bias and does not make sense because there are many countries that had Chinese investment but do not have got into debt trap. Whereas countries like Greece and other got into debt trap in the Western financial debt system. He argues the important issue is how one selects projects.
US Amb Berry says US wants Nepal to exercise sovereignty
In an interview to local media Kantipur and The Kathmandu Post, H E Amb Berry said that the US was focused on democratic principles and inclusive governance, economic growth and Nepal's independence and sovereignty.
Nepal's Maoist leader Prachanda meets PDAS Alice Wells in Washington
Nepal's highly controversial Maoist leader Puspa Kamal Dahal nom de guerre Prachanda is visiting the US supposedly for his wife's treatment at John Hopkins hospital. Meanwhile, he has met with Principal Deputy Assistant Secretary of State for South and Central Asia Ambassador Alice Wells in Washington today (March 25, 2019). Dahal was recently at the core of Venezuela controversy against the US when his party issued an statement criticizing US move in the Latin American nation. US Embassy in Nepal immediately asked Nepal's government to clarify about its position. Subsequently, Prachanda toned down his rhetoric against US' Venezuela policy.
Photo source: Ganga Dahal's Facebook (Prachanda's daughter)
Nepal looks forward to investment summit
Nepal government is going to hold an international investment summit end of March 2019 and hopes for large international investment pledges. However, international partners and national stakeholders strongly urge the government to make necessary reforms in order to succeed.
Recent nomb blasts in Nepal reminds Maoist insurgency era
Nepal police suspects the hardliner communist leader Netra Bikram Chand aka Biplaw, an offshoot of the Maoists who waged a decade-long insurgency, for series of arson attacks in NCell telecom company in several districts.
Nepal communists attack freedom of expression, bans satirical song
"Some sections of the ruling Nepal Communist Party, especially, Youth Federation Nepal, had released a strong statement against the song, discouraging the public from listening to Sharma," according to The Kathmandu Post. The Post writes, "the NCP youth wing issued a statement in its Facebook page on Saturday accusing the singer of defaming the ruling party while aligning with the main opposition Nepali Congress."
US Admiral of Indo-Pacific Command arrives in Kathmandu, Nepal
Admiral Philip S Davidson has arrived in Kathmandu and met senior leaders including the army chief Thapa of  Nepal.
US-Nepal arms deal for UN operations
Nepal Army is procuring 6492 M-16, M4 and A4 rifles with the US' Pacific Command for UN requirement for countries in peace keeping operations to have the logistics ready. However, there has been some differences on the payment process. The matter was in the agenda of Nepal FM Gyawali's visit to Washington where he met his counterpart Mike Pompeo.
Hollywood Actor Morgan Freeman in Kathmandu
Legendary actor Freeman is spotted walking around the old city of Kathmandu, Nepal in a traditional Nepali attire -Daura Suruwal.
Age-old problematic of citizenship in southern Nepal resurface 
The incumbent home minister Ram Bahadur Thapa, a Maoist leader, warns against the issuance of naturalized citizenship as the nation is debating legal and constitutional provisions for the same. The government has registered a proposal to amend the Citizenship Act -2006, but women activists and Madhesi lawmakers are against the new provision for women introduced by the proposal.
Nepal earthquake reconstruction: 296,514 houses rebuilt
Nepal Earthquake reconstruction:  296,514 houses, out of 555,612 that were damaged by the devastating earthquake of April 25, 2015, have completed reconstruction, according to the National Reconstruction Authority (NRA).
Nepal wants to rehire the Chinese Gezhouba Group Corporation for Budhi Gandaki
PM Oli administration has decided to bring back China Gezhouba Group Corporation (CGGC), revering the Deuba government's decision to cancel the contract with the Chinese firm to develop the 1200MW Budhi Gandaki project with internal resources
Nepal cancels its participation in the Pune military exercise
The news that the BIMSTEC member countries were going to participate in a joint military exercise in Pune, and that Nepali Army was also a part of it, met a strong resistance in Nepal. Finally, the PM Oli ordered the Army not to participate in the exercise. Indian PM Modi had declared about the program during the BIMSTEC summit in Kathmandu.
Nepal-China sign protocols to access Chinese seaports
The two countries have agreed upon the protocols to implement the trade and transit agreement signed in 2016 under then PM Oli's leadership. This is seen as a historic step to end India's trade and transit monopoly in Nepal. Nepal was desperate to find options after it suffered tremendously because of Indian blockade in the country which had just been hit by a massive earthquake.
America separately wants to pursue relations with Nepal –US PDAS Alice Wells
The visiting US Principal Deputy Asst. Secretary to South and Central Asia Alice G Wells says in an interview to the English daily Republica in Nepal. She says: "Nepal as a sovereign nation should not be forced to make artificial choices. We support the decisions that Nepal makes in its interests. The US separately wants to pursue very close relation with Nepal. You don't have to be a bordering state of Nepal to have stake in Nepal's growth and development.
BIMSTEC summit concludes in Kathmandu, PM Oli positive
PM Oli: "The summit has been a significant step towards making BIMSTEC a dynamic, effective and result-oriented regional organization. It has reinvigorated the BIMSTEC process to realize the vast potentials that are available in the region."
Not much hope from BIMSTEC in Kathmandu
Kathmandu is hosting the fourth BIMSTEC summit this week. Nepal government is positive in terms of using BIMSTEC as a foundation for further cooperation in connectivity and trade. According to Nepal's foreign minister, there will be some important agreements sealed during the summit. Indian PM Modi will also be there as he is going to inaugurate a guest house in the Pashupatinath temple area. But Nepali stakeholders do not seem to be optimistic about the summit as they do not see any good reason why or how BIMSTEC will achieve its goals. There seems to be one major dichotomy– while India wants to push BIMSTEC as a strategic instrument for its security concerns, Nepal wants to cooperate only in economic matters.
Japan funded Kathmandu's tunnel  procurement process begins
The 2.45 km long Nagdhunga tunnel construction project's procurement process to appoint contractor has begun. Bidders should send proposals with USD $2 million bid security. Nepal and Japan government had signed this development assistance loan agreement in 2016. The procurement process has to meet Japanese guidelines. The interest rate is 0.01 percent, and the pay back period is 10 years, with 10 years grace period.
Nepal and Bangladesh sign MOU on electricity trade
The agreement between Nepal and Bangladesh will enable Nepal's surplus power trade with Bangladesh, and also the latter's wish to invest on power in Nepal. However, India's cooperation is vital, and is uncertain, in order to use the chicken-neck corridor to that end.
US Pacific Command and Nepal Army Co-host Military exercises in Nepal
Representatives of 20 Asia Pacific countries are or will be in Kathmandu this week for "Pacific Endeavor -2018" military communication exercise co-hosted by the Nepal Army and the US Pacific Command.
Chinese investment coming into PM Oli's district
As expected, PM Oli has been able to attract Chinese investment into his own district Jhapa in the eastern Nepal. He was criticized for neglecting development of his own base, and now it seems that he has big plans for the region.
Nepal recommends new ambassador to India
Nepal government has recommended Nilkantha Upreti, former chief election commissioner as a new ambassador to India. The cabinet meeting held on Monday afternoon has decided to recommend the name of Upreti as the new envoy to the southern neighbor.
Nepal-China signed cross-border railway agreement during PM Oli's Beijing visit
In PM K P Oli's official 6-day visit to China, Nepal signed the Tibet-Kathmandu railway agreement which is dubbed as the "most significant initiative" in the history of bilateral cooperation between the two. Several other agreements were also sealed.
Also: Nepal-China Joint Statement, June 2018
Oli wants to improve ties with India
The Nepal PM K P Oli is set to visit China. On the occasion he said for a prosperous Nepal he is making efforts to improve ties with immediate neighbors. He also assured his fellow Nepalis that he would sign any agreement with China that would be detrimental to Nepal's interest. He also reaffirmed that the right way for Nepal is the multi-party federal democratic republic with socialism oriented political system.
India finally agrees to give more air routes to Nepal 
After over a decade of Nepal's request to India for providing more air routes as Nepal's air traffic is growing unbearable for only one entry point, Nepal's CAAN and India's AAI signed air agreement to use more air routes. Nepal's PM Oli's India visit in May 2018 proved useful as the negotiation gained momentum after that. However, experts believe that the agreement will take some time to be implemented.
Nepal PM Oli signing several deals in China visit this June
The foreign ministries of Nepal and China have confirmed PM Oli's official visit to China on the invitation of the Chinese PM Li Keqiang. Oli is scheduled to lead a delegation level talks with his counterpart in Beijing. The two countries will have agreements in the areas of raod and rail connectivity, tourism, hydropower, petroleum storage etc. According to China's foriegn ministry's statement, this visit is seen as an important step to further strengthen the deepening ties between Nepal and China.
Nepal's export to China doubled
According to the Nepal Rastra Bank, the central bank of the country, Nepal's export to China this fiscal year has nearly doubled, as 95 percent of Nepali products are subject to duty-free and quota free treatment by China.
Prachanda wants change in electoral system to enable directly elected executive
Prachanda said that an agreement regarding directly elected executive head was nearly reached in the first Constituent Assembly but decided to hold the election under the existing model for the time being bearing in mind the then political equation and changing context during the second Constituent Assembly.
More
Nepal govt releases a Maoist era murder-convict
Nepal government has given amnesty to Mr Bal Krishna Dhungel, a murder-convict who was in life-long imprisonment, and released from jail. Subsequently, the Supreme Court has denied to issue stay order on the government's decision.
Nepal PM Oli to visit China in June
Prime Minister KP Sharma Oli is likely to embark on a five-day state visit to China beginning June 19—his second foreign visit since assuming office on February 15.
More
Nepal's biggest communist parties finally merge
The Communist Party of Nepal -United Marxist Leninst (CPN-UML) (KP Oli) and the CPN (Maoist Center) (Prachanda) have dissolved their respective parties to form a new party called Communist Party of Nepal. The new party will have 441-member central committee (241 members from the UML and 200 from the Maoist Center), and will have a 43-member standing committee with 25 representatives from the UML and 18 from the Maoist Centre.
Nepal India joint statement during Modi's state visit, May 2018
Indian PM Modi just complete his 2-day state visit to Nepal, 3rd visit in his tenure. This visit, largely religious, came mainly to amend fences in the bilateral relations that hit a road a block when India imposed a blockade on Nepal in 2015 endorsing the regional Madhesi movement. Despite several protests at the popular level, the visit seemed very cordial and successful in terms of leaders-to-leaders relations. The chemistry between Nepali PM Oli and Modi has been especially impressive.
The following is the link to the joint statement issued during the visit:
Nepal India joint statement during Modi's state visit
Indian PM Modi and Nepal PM Oli lay foundation stones of Arun III hydel project
Visiting Indian PM Narendra Modi and Nepal PM K P Oli laid foundation stones of Arun III project, a 900 MW project,  from the Dwarika's hotel in Kathmandu.
More here
Indian PM Modi arriving in Janakpur, Nepal soon
PM Modi is visiting Nepal for two days , May 11-13. This is his third visit to Nepal. This is a unique visit as he is entering Nepal from Janakpur where he will do a Puja at the Janaki temple. He will aslo visit the mountainous Muktinath near the China border which is an important pilgrimage for Swaminarayan community of Gujarat India from where Modi comes. Although the visit largely seems as a goodwill and religious visit, there will be some announcements on waterways connectivity and infrastructure investment.
More here
Indian visa requirement for Nepalese and Bhutanese citizens
On the eve of Indian PM Narendra Modi's Nepal visit, India has issued a new visa requirement for Nepalese and Bhutanese citizens "entering India from China, Hong Kong, Macau, Pakistan and Maldives. See the copy of the official instructions below:
Source: https://deshsanchar.com/2018/05/08/51551/
Nepal to continue Indian Embassy's small grant agreement
Nepal's PM Oli's government has decided to give continuity to the small grant agreement between Nepal and the Indian Embassy. As per the agreement, the Embassy can invest up to Rs 50 million directly in Nepal. The previous government of PM Deuba had decided to end the program by not renewing it, but surprisingly the Oli government, which is said to be anti-Indian, has given the continuity.
China eager to build transmission line from Nepal to Shigatse
China has proposed to Nepal that the two countries should collaborate in preparing a detailed project report (DPR) for a planned cross-border transmission line.
More here
India PM Modi to visit Nepal next week
Indian Prime Minister Narendra Modi will start his two-day Nepal visit from May 11 to 12 from Janakpur, according to Home Minister Ram Bahadur Thapa.
More here
Trump Administration to cancel Temporary Protection Status for Nepalese
9,000 Nepalis face deportation as Trump administration prepares to cancel residency permits
Senate democrats call on Trump Administration to extend the TPS for Nepalese nationals
The letter was signed by Senators Dianne Feinstein (D-Calif), Charles Schumer (D-N.Y.), Michael Bennet (D-Colo.), Richard Blumenthal (D-Conn.), Cory Booker (D-N.J.), Sherrod Brown (D-Ohio), Chris Coons (D-Del.), Tammy Duckworth (D-Ill.), Dick Durbin (D-Ill.), Kirsten Gillibrand (D-N.Y.), Kamala Harris (D-Calif.), Maggie Hassan (D-N.H.), Amy Klobuchar (D-Minn.), Patrick Leahy (D-Vt.), Robert Menendez (D-N.J.), Patty Murray (D-Wash.), Bernie Sanders (D-Vt.), Jeanne Shaheen (D-N.H.), Tina Smith (D-Minn.), Chris Van Hollen (D-Md.), and Elizabeth Warren (D-Mass.).
More here:
Chinese tourist arrivals become no. 1 in Nepal
In the first quarter of 2018, China tops the chart of tourist arrivals in Nepal, surpassing India the long-time top source of tourists for Nepal.
Nepal's Foreign Minister to visit China in April
Foreign Minister Pradeep Gyawali is visiting China on April 16 on the invitation of the Chinese counterpart Wang Yi. Gyawali's visit reportedly will lay the groundwork for the PM Oli's visit to the northern neighbor.
Nepal's new Prime Minister K P Oli in India 
PM Oli is characteristically making many headlines in India and Nepal and elsewhere as he is on his 3 days visit to India.
Nepal PM K P Oli to visit India in April
Prime Minister KP Sharma Oli is all set to visit India in the first week of April and the ministries have started finalising the agenda to make his visit a grand success.
Nepal Election Commission objects to EU Election Mission Report 
The European Union's election mission in Nepal in its final report irked many in Nepal as it recommends a removal of Nepal's majority population group "Khas-Arya" from the Proportional Representation elections, a provision which is constitutionally enshrined. The report also criticized Nepal Election Commission for its handling of election processes. The EU's claims and recommendations drew strong reactions from the election body and the ministry of foreign affairs. Nepal says the EU mission has violated the terms of agreement by issuing an unwarranted and intrusive report. The EU in response says that those recommendations are in the spirit of partnership.
EU EOM Final Report on Nepal Elections
Nepal's Ministry of Foreign Affairs' statement in reponse
EU: Recommendations in spirit of partnership
Nepal's foreign minister says high level visits from India and China this year 
Nepal's new foreign minister, and a close aide of PM Oli, Pradeep Gyawali has said that the recommendations of the Eminent Person Group, that will be out by July, will be the basis for Nepal-India relationship. The minister also hopes that there will be high level visits from both India and China to Nepal in 2018 itself. According to Mr. Gyawali, his government is also working on finalizing protocols for Nepal-China trade and transit agreement  his leader Oli had signed in 2015. He said hat railway projects in the north will be his government's top priority.
Maoist Prachanda: we are in favor of neither India nor China, but Nepal
The Communist Party of Nepal Maoist Center's Chairman Puspa Kamal Dahal, nom de guerre Prachanda , has said that the fact that Nepal is in between China and India is not a curse but blessing. He claims that in the past the "feudal Nepal" used to lean either toward India or China, but that is history now, "we are in favor of neither India nor China, but in favor of Nepal and will work together with both the countries for Nepal's development." Repeating the current left rhetoric in the country, mainly of the PM K P Oli, about good governance, prosperity and development, he claims that the left alliance win has established a foundation for Nepal's good future, and also talks about the viability of bringing the Nepalis working abroad back home.
Pakistan PM Abbasi arriving in Kathmandu as PM Oli took office
Pakistani Prime Minister Shahid K Abbasi will be the first high level dignitary to visit Nepal in PM  K P Oli's government. Abbasi is arriving in Kathmandu on March 5 for a two-day state official visit. Oli has made a departure from the tradition that any new Nepali PM immediately after taking office visits India by receiving a head of state of another country in Nepal. Reportedly, on a telephone conversation with Indian PM Modi, Oli had responded to Modi's invitation to India by inviting Modi himself to Nepal first. Indian MEW Sushma Swaraj came to Nepal in an unofficial visit to meet Oli before he assumed office. There were talks about Chinese President Xi visiting Nepal in Oli's government, but for now Nepalis have to settle with the Pakistani leader. The questions remain whether Oli is leaning too much towards China-Pakistan camp in his endeavor to counter India, or it is a manifestation of his non-alignment policy, or this much is what he could deliver despite his lofty rhetoric.
US Prez Trump congratulates Nepal's new PM Oli
The US President Donald J Trump has congratulated Nepal's newly elected PM K P Sharma Oli and expressed his "readiness to advance the partnership" and support to promote "stability, good governance and sustainable economic growth". PM Oli, a leader of the Communist Party of Nepal-United Marxist Leninist, bagged landslide victory in the recent federal and provincial elections with an alliance with the former insurgent Prachanda's Maoist Center. The US president has appreciated Nepal's completion of federal elections as "testament to the country's allegiance to inclusive democratic governance."
Nepal's biggest communist parties the UML and the Maoist Center finally unite
The Nepal Communist Party- United Marxist Leninist and the Maoist Center (Prachanda's) have finally singed the unity agreement ending weeks of speculation and uncertainty regarding the unity process. The new party is named the Communist Party of Nepal, and both the leaders K P Oli from the UML and Prachanda from the Center will jointly lead the party. Regarding the new common ideology, the parties have decided to leave the debate for the next party convention.
More here
Mr. K P Sharma Oli takes oath for the post of prime minister of Nepal
After the impressive win of the leftist alliance led by the leader K P Oli in the federal assembly elections, Oli becomes the 38th PM of Nepal.
More here
US Army Pacific Commander General Robert B Brown is arriving in Kathmandu for a four-day visit. Read more
Increase cooperation between the two armies is our priority – Dep. Asst. Secr. SCA Alice Wells
The US Deputy Assistant Secretary for South and Central Asia Alice G. Wells has said that the US respects Nepali people's verdict and will work together with the next government regardless of the fact that the communist alliance has won the recent federal elections. Wells appreciated the fact that Nepal was able to hold peaceful elections, that Nepal is exemplary in terms of following a path of democracy for others, and that as long as there is a legitimate government that represents Nepali people, the US will be willing to cooperate. She said: "our relations will go forward on the basis of our common interests and our peoples' common values."   She also said that there have been discussions about increasing the cooperation between the militaries of the two countries. Talking about the important role played by the US Pacific Command in Nepal after the 2015 earthquake to provide humanitarian assistance and cope with natural calamity, she added that "it is our priority to increase coordination and cooperation between our armies."  (In her exclusive interview with the BBC Nepali in London, February 2, 2018)
Founder of Himalayan Database, Elizabeth Hawley from Chicago dies at 94 in Nepal
Liz Hawley, originally from Chicago, gave up her job in New York and went to live in Nepal in the 1960s reporting for Reuters. She founded the Himalayan Database which chronicles thousands of expeditions to the Himalayas in Nepal, and although the database is unofficial, prominent mountaineers around the world have huge respect for it. Liz who drove her famous blue VW Beetle in Kathmandu for such a long time and interrogated many mountaineers is now no more. She passed away in Kathmandu at the age of 94. A mountain in north-west Nepal was named Peak Hawley in her honor three years ago. Sir Edmund Hillary had called her " the Sherlock Holmes of the mountaineering world."
Read more here
World Bank and Nepal sign US$400 million concessional loan agreements
Nepal government and the World Bank have signed three different finance agreements on the USD 400 million concessional loan. The finances will be for the post-earthquake reconstruction, livestock innovation projects, and vocational education and training projects for youth. The World Bank is developing a new country partnership framework for the next 4 years period.
Nepal is a "partly free' country –Freedom House Report 2018
The Freedom House, a freedom watchdog organization in Washington DC, launches its Freedom in the World 2018 report. According to the report, Nepal continues its "partly free" status which it has had for the last several years except in 2006, however, this year the country has gained 3 points from 52/100 to 55/100 in aggregate as a positive development due to the peaceful completion of several federal level elections. Nepal's performance has been especially good this year compared to the worrying global trend of democratic decline in decades. According to the report, 2018 marks the "12th consecutive year of decline in global freedom." It also highlights the "accelerating decline in American political rights and civil liberties."
US Temporary Protected Status (TPS) Announcement
The US Department of Homeland Security has announced the termination of the TPS for El Salvador and Haiti. Nepal's TPS status as of now remains extended through June 2018. The TPS designated countries are: Nepal, Nicaragua, Honduras, Somalia, South Sudan, Syria, Yemen, and ( El Salvador and Haiti). However, the termination for these two countries will be effective only from September and July 2019 respectively.  Nepalese diaspora organizations have been stepping up their efforts in Washington to get the TPS extended for Nepal. For more information on TPS, visit Homeland Security.
US Sky Trucks to arrive soon: Nepali Army ; Russia and Ukraine compete for Helicopter deals
The Nepal Army  has announced that it will not accept reconditioned helicopters any more due to the difficulties to repair. Meanwhile, it says that it will be receiving its order any time soon from the US. During  the visit of the Army Chief Rajendra Chhetri visit to the US in 2016, the US government had pledged to provide 4 Sky Trucks to Nepal. Similarly, as the Army announced its decision to purchase 2 more Russian helicopters, MI-17, the Ukranians have started to lobby in Kathmandu for their MI-8 which they claim to be similar to the Russian ones but very economical. The Nepal Army received 2 MI-17s from Russia in 2015. (Source: Kantipur daily, Nepal)
US Ambassador to Nepal: US has alignment of interests with India, also with Nepal and China
The US Ambassador to Nepal Alaina B. Teplitz says that Nepal needs to have a friendly relationship with both of its neighbors just like it is friend with the US and many other countries. She argues that Nepal should emphasize regional connectivity to achieve economic growth, and the connectivity in Nepal's case will be on both sides, i.e., South Asia and China. Nepal and the US have the strong foundation of the 70 years of bilateral relationship, and the US would like to take this friendship further with close collaboration on priority areas such as poverty reduction, development, inclusion, environment, trade and investment, transparency etc. Sometimes the US policy in Nepal is misinterpreted due to the fact that the US has some alignment of interests with India. But it should be noted that the US has alignment of interests with Nepal, and also with China. "We also look for allies and partners that are like-minded. We have our values and principles, and we want democratic form of governments". The US will work with any parties or governments in this new political era of Nepal as long as the democratic processes are institutionalized and followed. In terms of the Chinese investment in Nepal, she stresses that the international standards are met, and that the process be transparent. The US wants Nepal to take the benefit from its partners in a sustainable way and the US is willing to work together with Nepal. The Nepalese diaspora in the US and many Americans who travel to Nepal will only make the relations more important and closer. ( Excerpts from her exclusive interview with the Kantipur television in Kathmandu, Nepal, 26 December, 2017)
Indian PM Modi's telephone conversation with the Nepal's CPN-UML Leader K P Oli
Indian PM Narendra Modi has called the three leaders in Nepal in one day, the PM and the Nepali Congress leader Sher B. Deuba, the Maoist Center's Prachanda, and the CPN-UML's KP Oli. Modi has congratulated the three leaders for the historic achievement of successfully conducting all three levels of  federal elections. Reportedly Modi had a long conversation with Oli, the triumphant UML leader who in recent months is increasingly seen as a pro-China figure in the Nepalese politics, as China was a subject of their chat. While Modi has communicated his willingness to work together with Oli's leaderhip, Oli has said that it is Nepal's interest to have good relationship with both of its neighbors, thus, will have a good balanced relations with India and China. The Indian and international press has watched this election largely in geopolitical terms, which is not well-taken by the Nepali press and the people as they believe they exercised their sovereign power to vote parties and leaders according to their own judgement. One UML leader, Pradip Gyawali,  puts that his party wants to have a harmonious relationship with India, and that it is anti-Indian is a misleading interpretation spread by a section of the Indian media and few persons.
K P Oli's UML secured an impressive victory in the federal elections
The Communist Party of Nepal – United Marxist and Leninist has registered an outstanding performance in the federal and provincial elections by winning both the First Past the Post and Proportional Representation voting. In the FPTP the UML has inflicted a humiliating defeat on the grand old party Nepali Congress. The left parties' alliance –the UML and the Maoist Center of Prachanda – has secured comfortable majority in the federal parliament, and even a two-third majority in some provinces. While the Nepalese people have given their verdict that they want stability and development, international experts have watched the elections in terms of the geopolitics of South Asia, mainly the rivalry between China and India. The next government of PM Oli is seen to have more nationalistic tone, meaning, less India and more China.
The leftist alliance is set to have a landslide victory
The electoral alliance between the biggest communist party of the country the CPN-UML and Prachanda's Maoist Center are leading with huge margin against the Nepali Congress and its alliance in both federal and provincial assemblies. The alliance has in fact already secured a two-third majority in the First Past the Post votes for the federal parliament, bagging 111 seats out of total 165. Similarly, the Proportional Representation votes counting is in progress in which the left alliance is leading too. However, in the PR voting, the Nepali Congress is behind the UML with small margin, and the Maoist Center is much behind. The UML has won 5 provinces out of total 7 in the FPTP voting. In the province no. 2, which had seen a long agitation, the Madhesis' alliance RJP has won.
Nepal's  post-Maoist insurgency peace transition ends with federal elections
Nepal is holding the first phase of central and provincial level elections required by the new federal constitution of Nepal ending the peace process that began after the Maoist rebels signed the Comprehensive Peace Agreement in  2006. Nepal already successfully conducted  local government level polls few months ago. After a decade of uncertainties,  mainly due  to the Maoists' behavior in the beginning that did not correspond to the peace agreement, and due to regional and identity movements, namely the Madhesi movement in which  many citizens lost their lives, Nepalese are hopeful that the era of conflict is over, and the country is set on a path to economic growth and development duly addressing the unresolved issues and community grievances.
For updates on the elections, go to  Nepal Election Commission.
Handicraft fair ends in record transaction in Kathmandu
The 15th Handicraft Trade Fair organized by the Federation of Handicraft Association of Nepal in Kathmandu ended with about US $ 7.7 million in transaction with more than one hundred thousand visitors. The handicraft sector provides more than 1 million jobs directly and indirectly in Nepal.
Nepal Election Commission concerns about candidates' security due to bomb blasts
The Election Commission has said it seriously takes the growing number of attacks on candidates and election rallies with the first phase of federal parliamentary and provincial elections less than 10 days away. Polls will be held in 32 districts on November 26 in the first round.
China Three Gorges Corporation and Nepal Electricity Authority joint investment agreement
The China Three Gorges Corporation (CTGC) and Nepal Electricity Authority (NEA) have signed an agreement to jointly invest in the West Seti Hydropower project. NEA executive director Kulman Ghising and CTGC representative signed on the agreement this week.
Nepal cancels the contract with the Chinese Gezhouba Group for 1200 MW hydel project
The previous PM Prachanda had granted the national pride project of Budhigandaki to a controversial Chinese company —Gezhouba Group — circumventing the due process shortly before his prime ministership ended. On the recommendation of several parliamentary committee, the cabinet has made the decision to scrap the agreement.
Nepal's 3-time prime minister Kirti N Bista passes away
Kirti Nidhi Bista, a royaist and nationalist, died at the age of 90 in Kathmandu this week. He was the first politician to raise the issue about 1950 India Nepal friendship treaty and oversaw as PM the end of Indian military presence in Nepal. He is known for his simplicity and integrity.
Nepal elected as a member of the UN Human Rights Council 2018-20
Nepal has been elected as a member of the United Nations Human Rights Council for the 2018-20 term on October 16, 2017 in the 72nd session of the UN General Assembly in New York. Nepal secured 166 votes, which was the highest in the Asia-Pacific group. Nepal will serve the Council in its member capacity for the first time since the creation of the body. Among the 15 states elected regionally, countries such as Qatar, Pakistan and Afghanistan are also among the elected in the Asia-Pacific group.
Nepalese Ambassador to India Mr. Deep Kumar Upadhyaya Resigns
As Nepal successfully conducted the local level elections and is preparing for provincial and central/parliamentary elections, in a surprising move, the big communist parties UML and Maoist Center including New Force/Naya Shakti of former Maoist Baburam have formed an election alliance and in principle agreed on uniting all the parties. As another episode to several unexpected and quick developments in the Nepalese politics, the government summoned its ambassadors for US, India and China for discussions at the parliament's foreign relations and labor committee.  Shortly after that, the  ambassador to India D K Upadhyaha resigned. He had already made public his intention to leave his diplomatic job to run for upcoming elections.  Ambassador Upadhyaha is a long time Nepali Congress politician, from the Deuba camp, and will run for elections from his home district Rupandehi. His tenure was quite controversial as he had been called back once by the Oli government, and then "reinstated". He also faced a huge challenge as the ambassador to India during the five-months blockade due to Madhes movement supported by India. During his tenure in Delhi, he was criticized in Nepal for being somewhat too inclined towards India rather than defending Nepal's national interests.
The UN welcomes Nepal holding third phase local elections successfully
The United Nations has congratulated Nepal for successfully conducting the local level elections, and advised the country to hold upcoming regional and central elections also in an inclusive and peaceful manner. According to the spokesperson Stephane Dujarric, the Secretary General Antonio Guterres has congratulated Nepal and said that this is a "crucial step" in implementing federalism in Nepal.
MCC Chief Jonathan Nash and Nepal FM Karki signed US$ 500 compact program
Today, Sept 14, 2017, Jonathan Nash from the US government's Millennium Challenge Corporation (MCC) and Nepal's Finance Minister Karki signed the compact program aid of US $ 500 million, making Nepal the newest partner of MCC. The program is expected to "spur economic growth" in  Nepal by investing on power transmission and roads.
ADB is providing US$ 152 million to Nepal's power projects and policy loans 
The Asian Development Bank (ADB) has agreed to provide 152 million US dollars for the implementation of Power Transmission and Distribution Efficiency Enhancement Project. The Bank has also agreed to provide 21 million US dollars policy based assistance to the Government of Nepal in the area of trade and customs.
WWF and Coca-Cola Foundation are working on sustainable use of water resources in Nepal
Wild Life Fund and the Coca-Cola Foundation together are promoting sustainable use of water, enhance livelihoods of local communities and conserve freshwater ecosystem in Nepal. Their project will be on the river Indrawati's sub-basin.
PM Deuba: timely and peaceful election is his government's priority
Nepal's PM Sher Bahadur Deuba said that the government is making the necessary preparations for conducting the local level election in Province No 2 that had been postponed due to the Madhesi protest, and the election of state assembly and House of Representatives in a free, fair and fear-free environment.
Details
US Ambassador to Nepal: "sustainable economic growth in Nepal, top priority"
Ambassador Alaina Teplitz argues that Nepal must have a vision for its future growth apart from working on legislation and reforms, and that Nepal "must support innovation and entrepreneurship to become a middle income nation by 2030.
Nepal-India sign 8 MOUs during the PM Deuba's State Visit to India
Nepal and India have signed eight Memorandums of Understanding (MoU) during the visit of Prime Minister Sher Bdr. Deuba to India. Four of these MoUs are about post-quake reconstruction in Nepal.
Monsoon flooding and landslides already claimed 49, several missing
Continuous heavy rain in Nepal since Friday has claimed 49 lives. In different parts of the  country highways are obstructed, bridges have sunk, thousands of houses are submerged, hundreds of tourists are stranded in Chitwan, airports are inundated. People are disappointed with the government's response. The long-standing issue of India's control over the damns in the south has again re-surfaced as most parts of southern Nepal are submerged. (08/13/2017)
US supports two historical sites restoration in Kathmandu
The US' Ambassador Fund for Cultural Preservations (AFCP) is financing $500, 000 to restore the Kaiser Mahal Palace, a neo-classical building from the Rana era, and the Char Narayan temple, a medieval Malla dynasty era's architectural jewel, in Kathmandu Nepal. (08/13/2017)
BIMSTEC Ministers met in Kathmandu 
Bay of Bengal Initiatives for Multi-Sectoral Technical and Economic Cooperation (BIMSTEC) foreign ministers level meetings were just held in Kathmandu, Nepal, which is the current chair of this sub-regional grouping. The foreign ministers of BIMSTEC countries Bangladesh, India, Sri Lanka, Myanmar, Thailand, Nepal and Bhutan participated in the Kathmandu meeting. According to the MEA Mahara of Nepal, the meeting made decisions on 8 issue areas:  at the earliest possible complete the BIMSTEC Free Trade Agreement,  sign the Grid Connection Agreement, agree on Technology transfer and trade facilitation, vehicle transit agreement, terrorism conventions and poverty alleviation programs, and form a BIMSTEC Center and an eminent advisory group. Nepal will hold the BIMSTEC Summit 2018. (08/11/2018)
"We stay neutral" on Doklam Standoff – Minister of External Affairs, Nepal 
Nepal's Minister of External Affairs, and Deputy Prime Minister, Krishna Bahadur Mahara (a close aide of Maoist Supremo Prachanda) said that Nepal will "stay neutral" in the Doklam standoff between India (for Bhutan) and China. He said that Nepal is asking both parties to resolve the dispute peacefully.  Amidst growing skepticism about Nepal's position on the issue, Minister Mahara stated the official position during a press conference today at the MEA office. The upcoming visits of Indian MEA Swaraj and China's deputy MEA Yang are being seen as closely related to the Doklam standoff, which Mahara denies. However, both Indian and Chinese embassies in Kathmandu are putting expressing their stands on the issue with the MEA in Kathmandu. (From Vernacular Kantipur; 08/07/2017)
Nepal-India Belahiya border point resembling the 2015 border blockade
India's act of putting ad-hoc security checking last week without any good reason at the Nepal-India Belahiya transit point has restricted the passage to thousands of vehicles passing through the border daily reminding of the 2015 border blockade. The fact that India is deploying very few personnel to conduct the security checking of every vehicle passing through the border, especially those entering India from Nepal as opposed to those entering Nepal, has caused huge disruption in the local business and industries, even  affected the import export reducing the state revenue collection.  (Source: Setopati; 08/06/2017)s
Maoist Supremo Prachanda's daughter Renu wins the Mayor of a municipality near KTM
In the second round of polls in Bharatpur, Nepal, Prachanda's daughter Renu Dahal  from the Moaist Center defeats the UML candidate by just over 200 votes to become the Mayor of Bharatpur Municipality, a town 70 miles away from the capital Kathmandu. The polls were canceled in the first round as UML and Maoist supporters started fighting over the cause of tearing ballots. The Maoist Center and Nepali Congress had an election coalition there which was seen as very unusual in the country, particularly the Nepali Congress was criticized for this coalition. Similarly, Prachanda was also condemned for having his daughter run for elections. (08/05/2017)
Nepal government accepts US government MCC's investment aid proposal 
Nepal's Council of Ministers today decided to accept MCC's aid to build transmission lines and roads. Two governments will ink the deal next month which will enable Nepal to receive the biggest aid amount from a single agreement so far.  MCC will build 300 kms of roads with international standard in the east and the west of Nepal. Nepalese experts expect that the MCC's transmission lines construction will enable the electricity connectivity between Nepal, India and China. 08/03/2017; Source: BBC Nepali
Nepal Army is changing its structure to fit with the federal structure of the country
In order to adapt to the newly established federal structure of the country, the Nepal Army is changing itself into a new structure in terms of its organization and operation. The Army is doing so as per the decision of the ministerial council convened ahead of the first local elections. In the new structure, there will be one military division in each federal province which will function as headquarters there. While there will be no increase in the size of the army or positions, the new structure will add two new divisions (from existing 6 to 8) in the southern Tarai-Madhesh region, in the provinces 2 and 5. (Source: Vernacular Kantipur ,  August 2, 2017)
High level visits from both India and China
Indian Foreign Minister Sushma Swaraj is arriving in Kathmandu on 10 August to attend BIMSTEC ministerial reunion. Similarly, China's vice-premier Zhang Gaoli is landing in the capital Kathmandu on 14 August on a 3-day visit.
Carter Center interested in upcoming polls observations in Nepal
Carter Center's application was denied by the Election Commission in Nepal for the recently conducted local elections as according to DC there is no such provisions to allow international observers for local level elections. But now for the upcoming central and provincial level elections, Carter Center has renewed its call for election observations.
US Millennium Challenge Corporation delegates visit Nepal to discuss compact program provisions
US government has pledged through its Millennium Challenge Corporation(MCC) $500 million to fund electricity and road projects, the biggest US pledge so far on Nepal's infrastructure development.  Now the MCC delegates led by Fatema Sumar are in Kathmandu to discuss the "compact program" provisions with the PM Sher Bdr. Deuba.
ICAO removes Nepal aviation from the black list
The International Civil Aviation Organization (ICAO) has removed Nepal from the list of serious security concerns (SSC) list. The ICAO took the fresh move based on progress evaluation of the civil aviation sector's progress in Nepal since 2013.
The biggest corruption case filed in Nepal
The Commission for Investigation of Abuse of Authority  (CIAA) arrested Director General at the Inland Revenue Department, Chudamani Sharma, accusing him of corruption on fixation of revenue.
US Embassy Organized Everest International Model United Nations
The US Embassy in Kathmandu, Nepal in partnership with Youth Thinkers' Society, has organized the 4th Everest International Model United Nations. 200 delegates from 15 South and Central Asian countries are in Kathmandu.
National and Provincial federal elections to be announced soon
Nepalese Prime Minister, the president of the Nepali Congress party, says he will announce the date for two level federal elections, at central and provincial levels, soon. He emphasizes the conduct of these remaining two level of elections is critical as it is the constitutional imperative for Nepal.