Nepal, South Asia, India and China – Talk at Oberlin College Ohio
Students from Oberlin College Ohio and Prof. Rudabeh Shahid and Anil Sigdel from Nepal Matters for America had an online interaction about his book 'India in the era of China's Belt and Road initiative: How Modi responds to Xi' and had discussion about Nepal. Students asked several questions to him about Nepal's domestic and foreign policy, and Nepal's ties with India and China. 28/03/2023 
Atlantic Council's South Asia Center, Washington DC, Webinar, March 22, 2022:
How Maldives, Nepal, and Sri Lanka are seeing their relationships with India and China
Anil Sigdel speaks about South Asian nations' quest for balancing in the era of US-China great power competition and lays out some vision for Non-nuclear South Asian nations to cooperate and collaborate.
Dr. Rudabeh Shahid, Atlantic Council Non-Resident Senior Fellow (Moderator)
Hoodh Ibrahim, Executive Director, Maldives Island Conservation Project
Dr. Pavithra Jayawardena, Senior Lecturer, Department of International Relations, Faculty of Arts, University of Colombo
Watch Here:
Lecture at the State Department Foreign Service:
In his lecture to US diplomats in Washington DC, Dr Anil Sigdel has argued that India's and China's economic assistance to South Asian nations, particularly Nepal, just like other nations around the world, goes only to the extent that nations align themselves to strategic objectives and interests of India and China, which is not an easy space to navigate for recipient nations.
(Lecture content/ arguments in pdf can be provided upon request to interest readers: write to: nepalmattersforamerica@gmail.com)
December 14th, 2022, Washington DC (virtual)
China's and India's policies and interests in Nepal:
Dr. Ani Sigdel in conversation with Prof Jennifer Catherine Murtazashvili, University of Pittsburg on the effectivness of Nepal's federalism and China's and India's policies and interests in Nepal in the context of the newly federalized nation.
June 08, 2021; 12.00 pm EDT
Dr Anil Sigdel is going to speak at this high level event on the 75th anniversary of US-Nepal Relations organized by ANA. 'Nepal and the United States of America (USA) established diplomatic relations on
April 25, 1947. The U.S. is the second country, only after the UK, with which Nepal
inaugurated diplomatic relations. Nepal established her Embassy in Washington D.C.
on February 03, 1958, and American Embassy in Kathmandu was instated on August
06, 1959. On the occasion of the 75th anniversary of USA-Nepal diplomatic
relationship, ANA is organizing a virtual panel discussion on "75 Years of
Nepal-USA Diplomatic Relationship and Our Achievements.'
Zoom link: https://us02web.zoom.us/j/82931261646
Audio of the town hall meeting Cynthia Watson here:  Anil Sigdel  
National Committee on US-China Relations – Join here for Ray Dalio's speech (7-8 pm EST)
Our Event on November 10, 2020 at 8-9pm EST:  "Small Nations in US-China Great Power Competition"
US-China relations have become increasingly complex. This relationship has in our times gone through a mutual isolation period to normalization,  and now we are in the phase of competition, or even the so-called "de-coupling." Let's hope this phase will also transform, but right now this competition has become real and nations around the world are feeling the effect of that. Therefore, this NCUSCR China Town Hall will look at the critically important topic that how small nations around the world, say from Latin America to Africa to Asia, will be able to or not be able to pursue their foreign and economic policies by engaging autonomously with both the US and China, reminding of Cold War era? How will the United States and China reach out to many nations in aligning their policies that are favorable for their global interests?  And importantly, what to make or not to make of new partnership offers especially from China, and to some extent US, as skepticism is growing out there in the world but the desire to engage is higher? How the new administration's take will be different, if any, on these matters? Please join us to hear about all these, and ask questions, with our Keynote Speaker Dr. Cynthia Watson who will share her valuable insights on these issues.
Speaker : Dr. Cynthia A. Watson, Dean of Academic Affairs, National Defense University, Washington Moderator: Dr. Anil Sigdel, Nepal Matters for America; Nepal Policy Institute
No need for registration! But will be helpful for us if you send your interest to join  or your early questions if you like to: nepalmattersforamerica@gmail.com
Meeting Link on Zoom: (Zoom Host: Arizona State University)
Time: Nov 10, 2020 06:00 PM Arizona and 8:00 PM EST.
Join from PC, Mac, Linux, iOS or Android: https://asu.zoom.us/j/89873963725
    Meeting ID: 898 7396 3725
Or Telephone:
    Dial (for higher quality, dial a number based on your current location):
        US: +1 602 753 0140  or +1 213 338 8477  or +1 253 215 8782  or +1 346 248 7799  or +1 669 219 2599  or +1 669 900 6833  or +1 720 928 9299  or +1 971 247 1195  or +1 646 518 9805  or +1 646 876 9923  or +1 651 372 8299  or +1 786 635 1003  or +1 267 831 0333  or +1 301 715 8592  or +1 312 626 6799  or +1 470 250 9358  or +1 470 381 2552
    International numbers available: https://asu.zoom.us/u/kb1z0zZ3Cr
       Or iPhone one-tap (US Toll):  +16027530140,,89873963725# or +12133388477,,89873963725#
Latest Events
NPI – PRI Strategic Plans Zoominar:
Consultation Zoominar between Government of Nepal (GoN) initiated think tank PRI and NPI. Discussions touched on PRI's strategic plans and possible collaborations between two think tanks. Dr. Anil Sigdel shares his thoughts on DC think tank practices before the CEO of PRI Dr. Bishnu Raj Upreti and several eminent scholars. June 01, 2020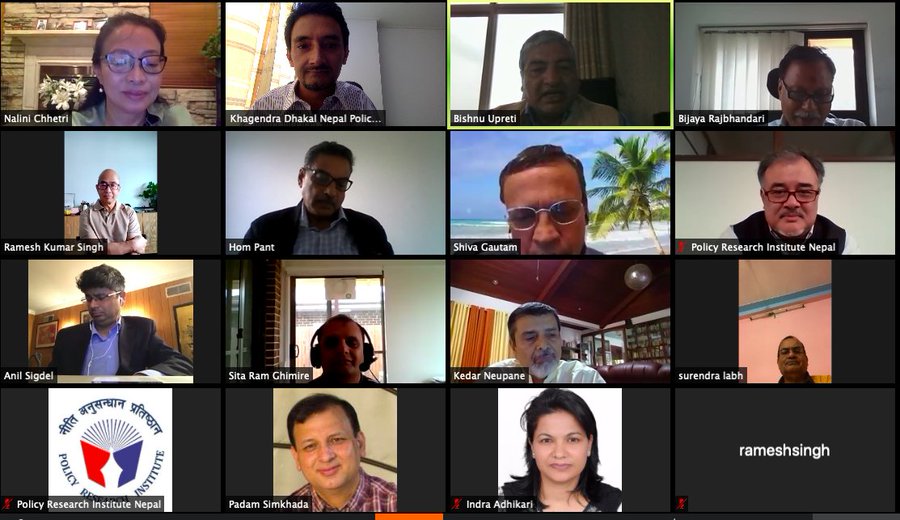 NPI and GoN's National Planning Commssion Policy Dialogue Series I
NPI expert community — prominent scholars and practitioners from around the world — provided their expertise and shared the best practices across the globe to contribute to the Government of Nepal's Social and Economic Recovery Plans after Covid_19. Dr. Anil Sigdel shares ideas about how Nepal should tap into changing regional and global supply chain. May 23, 2020
Reports also available at this link: https://www.linkedin.com/company/nepal-policy-institute/
Past Events
An interaction with Prof. Frank Shafroth, George Mason University, Washington DC on the matters of federalism and its challenges in Nepal.
-Nepal Matters for America interacts with the Nepalese diaspora on October 14, 2017 at NOVA College, Annandale, Virginia. H E Ambassador of Nepal to the US Dr. Arjun Karki will be the chief guest of the event.
-Dr. Anil Sigdel has panel discussions and presentations at the American University, Washington, DC on October 13, 14.
-Nepal Matters for America interacts with the Nepalese diaspora community in Woodbridge, VA; 07/23/2017; 1.00 to 3.00 pm
-Nepal Matters for America meets Congressman Jared Polis,, Co-chair Nepal Caucus
Canceled Events
An interaction program with Prof. Raidin, Georgetown University, Washington DC.